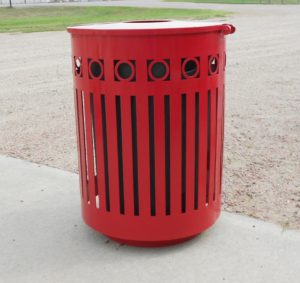 This Deco Trash Can is pretty and tuff. Built with 11g steel, the Deco Trash Can can and will survive any and all elements. The lid is connected with a hinge. Each can has the ability to be customized with your logo, saying, or design. The top deposit hole is 8" in diameter. This can is available in a variety of RAL and textured colors.
Heavy duty 32g trash can liner included.
Total Height:  34 1/2"
Total Width: 24 7/8"
Total Weight: 117 lbs
DTR-TC-32  $762