Click to enlarge pictures of colors
Powder Coat Colors  
This is a sample of the colors available.  More colors are available.

Regal Red     Boarder Blue    Safety Orange   Purple

Ever Green - Enclosure Beige - Yellow Green - Peking Gray

Architectural        Mineral      Country Brown    Black
Textured Colors

Coppervein-         Silvervein-           Goldvein
We also offer a Textured Black and several other colors with texture.
Recycled Plastic Colors

Black-  Cedar-  Evergreen-  Gray-  Brown
Thermoplastic Colors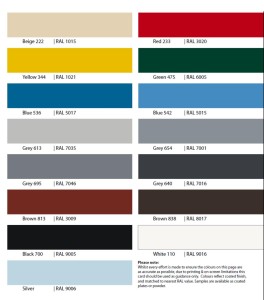 Stock Designs

Cedar and Pine Lumber Care
All items with cedar or pine lumber used will require treatment or sealing to prevent cracking or warping.
Untreated the wood is porous and over the long term may become discolored, crack or warp . Tuff-Go, LLC will not be responsible for wood products that are left untreated. For protection of your wood it is recommended that a sealer be used.